08 Jun

Fire Safety Courses UK

From September 2020 to September 2021, there were 243 fire-related fatalities.

It is clear to see from the above statistics that fire-related incidents are completely unpredictable, emphasising the importance of proper fire safety training. 

With the increasing rate in the growth of industries, the demand for raising awareness for fire and safety courses is also increasing. It is an essential part of all domains to take the necessary measures to ensure safety in the event of a fire.

The presence of fire safety equipment is not enough. Having the proper knowledge of how to use the equipment is critical, as, in an emergency, it is crucial to use time effectively and efficiently. Therefore, having the correct fire safety training is inevitable in order to protect yourself, your staff and your premises.

MY FIRE offers a range of training courses that can accommodate participants from a wide range of sectors. Proactive fire training gives participants a chance to get their hands on safety equipment under the proper supervision of trained experts. Sectors can include (but not limited to) office personnel, security officials, field engineers, doctors & healthcare, schools & universities.

MYFIRE Continuing Professional Development (CPD) accreditation alongside NSI UKAS Accredited and BAFE Licensed Society for the Prevention of Accidents, validating all the courses offered. All of the training provided is backed up with an accredited certificate for compliance upon completion of the training. Although there is no expiry, it is recommended to refresh your fire safety training every 12 months.

Have a Question? Give us a call on FREEPHONE:

0800 999 11 25

Importance of Fire and Safety Courses

It is essential to have proper and appropriate fire safety training to deal with the threat of or even in the event of a natural disaster. It enhances the abilities in terms of knowledge and skills of all personnel. Proactive certified training will equip your staff with the knowledge to help them efficiently deal with fire incidents and other emergency situations.

A person with awareness and skills in fire prevention can help reduce the risk of devastating effects of a disaster and also help prevent any loss of life and damage to the premises. It shows the importance of raising awareness and skill set of each individual in every industry. It may include students in schools, colleges, and universities.

Similarly, our courses become an add-on for hospital staff already trained to take care of medical emergencies. There is no minimum requirement for registering for our courses.

Fire and safety training has become mandatory for businesses in order to give protection and safety to their personnel as well as company protection.

Accredited Fire and Safety Courses

The proper teaching to staff and employees will help them know and practice the necessary actions in case of a fire incident. This alone makes it essential for them to get proper fire safety training.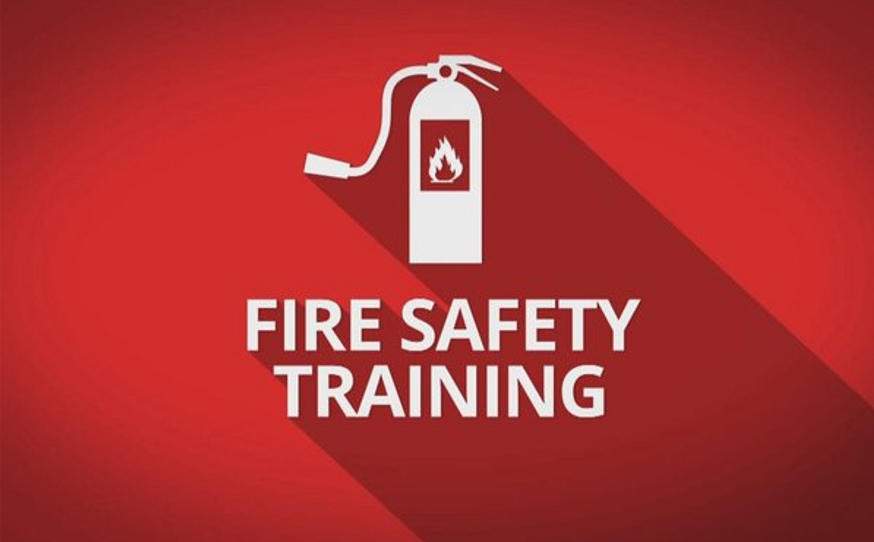 Fire Awareness Course
Fire risk awareness courses are designed to keep all staff in a workplace, including management above awareness level and safe. Fire awareness training courses help all workers to be more aware of fire risks and to become more proactive in preventing fires from occurring.
Every individual should have the necessary training for workplace fire safety, including assessment of the danger, emergency planning, and individual role in risk management. 
Our Fire Awareness course includes.
Triggering the fire alarm. 

Procedure for exiting the premises.

Evacuating the site.

Contain the fire by closing the doors after evacuating.

Different methods of settling a fire threat.

Application of fire-containing equipment like fire extinguishers.

An essential part of this training is to remind the candidates to familiarise the layout of their respective premises. Some of the best practices include:
Location of points of fire alarm triggers and pull stations in the building. 

The procedure of handling fire equipment in extensive facilities is challenging to provide coverage over an ample space.

Knowing the emergency exit route, staircases, and emergency exit doors. 

Awareness of emergency power cut-offs.
Fire Evacuation Chair Training
In the case of emergencies, some individuals face difficulties during evacuation due to physical disability that restricts them from moving on their own. They need the help of another individual to push or carry them to evacuate the premises safely. These individuals can be fellow workers or a fire marshal.
Our Fire Evac Chair Training Course includes:
In detailed specifications of the device.

Operating procedure for the device.

Equipment readiness and maintenance.

Evacuation route planning. 

Hands-on practices to avoid mishandling during real scenarios.

 
An evacuation chair is an essential tool in the event of a fire. The optimised design of the chair allows the handler to move it with ease, even if using a staircase, without any hindrance during descent. Emergency Evacuation Chair equipment is essential in offices, hospitals, and other facilities that house disabled people.
Individuals such as fire marshals must have proper knowledge of handling the evacuation chair during evacuation as it becomes challenging due to constraints primarily due to the hectic environment. 
Our evacuation chair course consists of both theoretical and practical training. It means that the candidates get to experience environments similar to real-life emergencies to practice using the equipment. As mentioned above, this course is most suitable for, but not limited to, individuals such as,
Doctors

Nurses

Caretakers

Office employees in multi-story buildings.
Have a Question? Give us a call on FREEPHONE:
0800 999 11 25
Fire Alarm Training Course

Large complexes and multi-story buildings have fire alarm switches and triggers installed at different locations for timely notification of emergencies. It is essential for individuals responsible for responding to the fire alarms to know where these are located and what their responsibilities are as a Fire Alarm Responders. Another noticeable point is identifying the type of alarm to react appropriately in a disciplined manner. 

The respective individuals (fire alarm responders) should know how to approach and enter a facility in various situations to raise the alarm. This training course contains all of the essential modules that alarm responders should know.

Our fire alarm training course covers:
Working principle of fire alarms.

Fire spread sequence in buildings.

Fire extinguisher applications.

Fire service operating procedure.

Utilising elevators and lifts for evacuation.

Multi-stage fire alarm systems.

 
The alarm systems in many buildings are sensitive enough to notify future threats. These two-stage fire alarm systems give the safety individual ample time to investigate, analyse, and put the fire out accordingly (if possible). In case of the fire spreads, the second alarm goes off to signal the evacuation of the building.
The fire alarm training is more suitable for (but not limited to):
Fire safety personnel in a facility.

Engineers.

Electricians.

Health and Safety personnel.
Fire Marshal Training


Fire marshal training is not just training for enhancing or learning a skill set, but it is to develop a profession of a fire marshal. A fire marshal is a professional whose skill sets are second to none.
A fire marshal is responsible for ensuring all fire prevention, safety, and evacuation procedures in a facility. A fire marshal needs to have complete fire marshal training. An accredited certification proves that a fire marshal can take his responsibilities professionally and effectively. 
The fire marshal is responsible for assessing all fire safety and danger risk and to take the necessary actions to ensure safety. He ensures that the fire safety protocols are in place and is also responsible for the training of occupants in a facility. In short, a fire marshal should be capable of providing safety measures for himself, the facility, and the occupants inside.
It is essential to know the number of fire marshals operating in a building. After accessing certain factors, a fire risk assessment details the appropriate number of fire marshals for a building. These factors include;
Type and purpose of the building.

Building size.

The number of occupants.

Multi-story building.

External access points in the building. 

Fire marshal training provides all of the essential knowledge in order to become a fire marshal. It includes all the theoretical and practical sessions to get a proper grip on a fire marshal's critical role. A list of duties for a fire marshal includes;
Check fire equipment readiness.

Report problems in case of faulty equipment.

Organising fire drills.

Lead the occupants of a building to a safe zone in case of emergency.

Make sure all the procedures are in line during an evacuation.

Make sure the headcount sums up before and after the evacuation.
The above are just some of the duties of a fire marshal in the workplace, however, the list is more extensive, see fire marshal training for more information. Fire Marshal Training has specific requirements to be met in order to register for the course. Experts will assess an individual and let them know about his eligibility for the fire marshal training.
Have a Question? Give us a call on FREEPHONE:
0800 999 11 25
Fire Extinguisher Training

Fire Extinguisher Training is essential for everyone within a workplace and not limited to certain personnel. Training will consist of participants extinguishing a live fire in controlled environments under the proper supervision of trained professionals. It includes understanding fire extinguishers and their types and their application across different types of fires.
The fire extinguisher training course is more of a general training course that any personnel at any level can participate in, these include (but not limited to):

Individuals who are wanting to learn about fire extinguishers.

Professionals who are involved in high-risk environments. 

Individuals who want to learn about fire safety procedures and measures.

Due to the fact that this is a generalised training course, every participant will have access to important fire handling equipment in order to ensure that they learn everything properly. There are many different types of fire extinguishers, and not all of them are suitable for every situation. You will leave this training with an understanding of the fundamentals of each kind of fire extinguisher and the fires to which they are best suited.
Fee Structures

The following is a list of our training courses along with an estimate of how much each one will cost. Have any questions? Contact us

Some prices may vary depending upon the training facilitation, as are some courses are also available online via Zoom or Teams. See our Online Fire Safety Training Courses for more information. 
Duration
Our proactive fire safety training courses allow participants to learn in a timely manner. The duration of our courses are as follows:
How Often Should You Practice Fire Safety Training?

Our training courses are not a one-time recommendation or an option. Fire and safety training requires regular practice and revision. It is highly recommended to refresh your fire safety training once every year.
Regular training will revise and refresh the training principles and bring perfection to the skill set. Organizations should train their personnel frequently to help troubleshoot any fire safety uncertainties in their buildings and new individuals.
Who Should Get More Detailed Training? Our Detailed Fire and Safety Training covers a vast domain of safety precautions for individuals who possess a higher responsibility in relation to fire safety.
Firefighters and fire safety staff.

Head of departments.

Chefs and fellow kitchen staff (restaurants).

Maintenance professionals.

Hotel Management and staff.

Engineers.

MY FIRE offers an array of training courses to help participants to become more aware of fire safety together with their responsibilities within the workplace. We make it easy for you to get the best training courses based on your requirements and working environment. Want to keep yourself and colleagues safe from fire? Give us a call on 0800 999 11 25.
Dangerous Substances and Explosive Atmospheres Regulations 2002 (DSEAR) click here.
If you would like to arrange a free fire risk consultation, contact us
My Fire Safety. Co-Space, 25 Town Square,
Stevenage, SG1 1BP. 0800 999 11 25