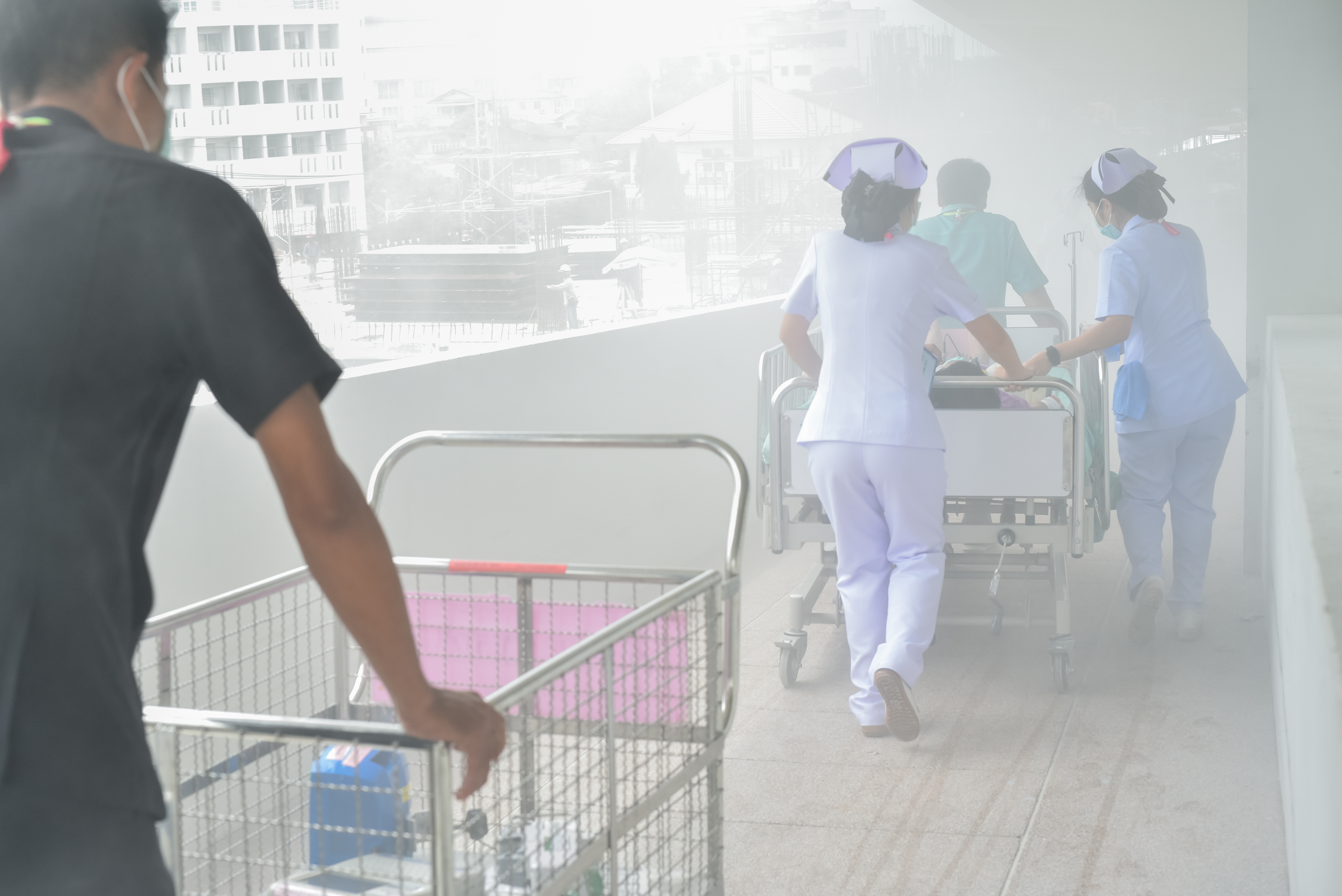 19 Apr

Hospital Fire Safety Plan

Care facilities such as hospitals and care homes pose a huge potential risk of danger when it comes to fire safety. Mobile equipment, electrical equipment, and, most importantly, sources of oxygen, other compressed gases, and chemicals are found in hospitals. This can create an extremely hazardous environment for staff and patients alike.

They are created in line with a building's fire risk assessment and occupancy type. However, owing to the immobility of the patients, preparing for a hospital fire safety plan might be difficult in an emergency. Hundreds of people are confined to beds, wheelchairs, or attached to a life support system, in hospitals.

As a result, it's critical that hospital staff be aware of and understand the hospital's fire safety plan. In the event of an emergency, the acronym RACE helps people recall their roles and responsibilities. In fact, the hospital's safety plan is based on this term. But, before we look at how we might utilise the RACE acronym to help us design a successful fire safety plan, let's define what a fire safety plan is.

 

What is a Fire Safety Plan?
It outlines your intentions for developing, monitoring and managing fire safety standards as well as conducting periodic reviews of them. The plan explains the processes to be followed in order to appropriately manage fire safety and safeguard people and property.

According to Article 11 of the Regulatory Reform Order 2005, the plan must explain how fire safety measures on the premises will be evaluated and improved over time.

What's the aim of a Fire Safety Plan?
A fire safety plan is not only specific to the building and its locations; it also supports the Health and Safety Policy and should be included in new hospital staff's departmental induction. The plan describes what to do in the event of a fire or any other emergency evacuation scenario, and it's summarised on fire signs strategically placed around the building.

All employees should familiarise themselves with the plan's contents. While the plan may identify fire dangers and materials in the workplace, it is not a "fire 'risk safety assessment." It should be examined by a fire safety specialist at least once a year, or after any changes that may influence it occur.

What should a Fire Safety Plan include?
Hospitals must prepare a documented fire safety plan that outlines all of the processes, systems, and actions that management and personnel must follow.

Employers are responsible for ensuring the safety of their staff. It is critical to discuss and revise fire safety strategies with workers and new hires within 90 days. It is suggested that the strategy should be updated at least once a year. 

At the very least, a fire protection strategy should contain the following elements:
Confirmation that all escape routes have a clear path.

Procedures for controlling flammable and combustible waste accumulations.

Procedures for warning personnel and fire response teams.

Personnel in charge of maintaining equipment designed to prevent the spread of flames.

The plan identifies employees responsible for preventing fuel source hazards.

Escape routes that are well indicated and as quick and direct as possible.

Procedures for maintaining the safeguards put on heat-producing equipment on a regular basis.

Procedures for maintaining the safeguards put on heat-producing equipment on a regular basis.

There are enough exits and paths for everyone to get out.

Procedures for locating and accounting for all employees following an evacuation.

Easy-to-open emergency doors.

Wherever there is a requirement for emergency fire safety lighting.

Wherever there is a requirement for emergency fire safety lighting.

All employees will get training on how to recognise and utilise the escape routes.

Fire safety plans are structured so that people can swiftly evacuate and escape danger. Unfortunately, this may get problematic when creating a fire safety plan for a hospital. Hundreds of people might be confined to wheelchairs, beds and are unable to move about on their own. Fire safety procedures must be carefully constructed to guarantee that all nurses, patients, physicians and other hospital employees, can safely and promptly escape.
Fire Detection Systems in Hospitals
Your hospital's safety plan, like any other, should contain functional and well-maintained fire detection systems. To safeguard vital hospital equipment as well as patients and personnel, ensure your hospital has a fire alarm system, fire extinguishers, and a fire sprinkler system in place. Given the nature of hospital surroundings, having adequate hospital fire prevention systems is insufficient. A hospital fire safety plan is crucial to keep patients, staff and visitors safe. Hospital fires may swiftly devolve into pandemonium if there isn't one, as everyone attempts to flee at the same time.
Getting Back to R.A.C.E
RACE is an abbreviation that stands for "Remove, Alarm/Alert, Confine, Extinguish/Evacuate."
It's an excellent tool to have in the event of fire since it's simple to remember, even when fear has set in.
Fires cause fear and distress. While your business or healthcare team may already be familiar with your business's fire plan, aspects of it might easily be forgotten in the midst of a fire emergency. RACE is an acronym that stands for:
Rescue – Any person in immediate danger.
Alarm – Alert others by activating the alarm.
Contain – The emergency by closing doors.
Evacuate/Extinguish – Extinguish the fire if it's safe and you are trained.



Download the infographic
Lets take a look at each one in more detail.
Rescue – The number one objective is to get everyone to safety away from the building as quickly as possible. Because some patients are immobile, this could include shifting beds, pushing wheelchairs, and lifting and transporting patients. It is better if they are practiced and done on a regular basis and with zeal. This guarantees that hospital personnel are aware of the right method and policy for dealing with an emergency.
Communication and structure are crucial throughout the rescue phase of your hospital fire strategy plan. Ensure you have a designated leader and that everyone understands their responsibilities. Also, keep in mind that throughout the phase above, communication and coordination are critical. To minimise fear and confusion, appoint designated leaders with specified duties and responsibilities. As a result, the leaders will be able to coordinate and communicate with the team, allowing them to react to the issue quickly.
Alarm – This is a critical part of your hospital's safety plan, and it's just as vital as the rescue methods. An individual or group should initiate the emergency systems as soon as a fire breaks out. Calling the fire brigade, activating a pull station, and sending out a message over the tannoy system are all responsibilities of the appointed person/team. Facilities with intercom systems, for example, may use the facility's code words, such as "Foxtrot Red." The purpose is to notify everyone about the fire and receive assistance as soon as feasible.
Confine – When the rescue stage and the alarm stage procedures have been completed, strive to keep the fire contained to a single location. Fire doors help in the compartmentalization of a fire. After the last person has escaped, make sure the doors are closed. In a hospital fire safety plan, one of the most critical components is the ability to restrict fire to a specific area while preventing it from spreading across the building.
Closing doors and windows can help stop the spread of smoke, cut off the oxygen supply to the fire, and save lives. This also limits the development of smoke and heat as occupants evacuate to a safe place. Fire marshals should start with a horizontal evacuation, which involves transferring patients down the corridor and through at least one set of fire doors to a secure location. Fire marshal training course
Extinguish – Evacuate – Even if the lights are out and there is a lot of smoke, staff should know where the fire extinguishers are and be able to locate them. By using a fire extinguisher (Types and uses can be found here) put out as much of the flames as you can. The only time this should be done is if the evacuation has begun and the fire brigade is on the way.
Also, make sure whomever is in charge of the fire extinguisher is acquainted with how it works and has a clear escape in case the fire catches and spreads. Training on the use of fire extinguishers can be found here. Staff should also try to extinguish only minor, confined flames where their safety is guaranteed, an escape path is accessible, and other staff members can help.
Steps to Creating an Effective Hospital Fire Safety Plan
Investigate the Floor Plan
Have a clear evacuation route plan to guarantee that evacuees are sent to the appropriate location in the case of an emergency. Regular fire safety inspections help keep evacuation pathways clear and equipment in good working order, such as easy-to-open fire doors, accessible fire ladders, and up-to-date fire extinguishers.

Decide where the Evacuation Assembly Point will be (EAP)
To guarantee safety after fleeing the building or property, it is critical to have a pre-determined EAP. Consider a large open space distant from the property where people may congregate and be quickly treated in the event of an accident.

Prepare an Emergency Plan
Security teams should follow emergency protocols in a step-by-step manner. It is clear paperwork that is delivered to all members of the organisation in a timely manner. Emphasize the difference between a fire drill and the real ringing of an emergency alarm, and make sure personnel are trained to respond to a fire.

Examine the Plan
The safety plan should not end with simply a piece of paper, it should also be tested to guarantee that it will perform in an emergency. As previously stated, a fire safety plan should be completed at least once a year. The fire safety documents should be updated and amended as appropriate and redistributed between staff and the fire response team.

Build a Fire Safety Team
Assign dedicated staff to oversee the emergency plan and disseminate it. Ascertain that competent employees are in place to cooperate with all members of the hospital, including visitors, employees, and people with disabilities, in order to evaluate their requirements and capabilities to evacuate.

Hospital Fire Safety Plan: Conclusion
The facility management team must be vigilant and check fire safety in healthcare facilities on a regular basis. Regularly inspecting cooking equipment, electrical cables, oxygen tanks, and fire extinguishing equipment may seem to be a mundane task, but it may literally mean the difference between life and death.
A good hospital safety plan can keep your patients and employees safe from fires while allowing you to carry on with your regular hospital operations knowing that you are always safe.
Please do not hesitate to contact us if you have any queries or want help in developing a fire safety plan. We can provide you with the most appropriate fire safety and protection strategies. We also provide a variety of fire safety training services, such as fire marshal, evacuation chair, alarm responder, and fire awareness. See our services
Dangerous Substances and Explosive Atmospheres Regulations 2002 (DSEAR) click here.
If you would like to arrange a free fire risk consultation, contact us
My Fire Safety. Co-Space, 25 Town Square,
Stevenage, SG1 1BP. 0800 999 11 25